Ural Daily Supplement High Strength Cranberry 60,000mg
Ural High Strength Cranberry capsules –conveniently small and easy to swallow – are a daily, high potency cranberry formulation. Each capsule contains concentrated cranberry extract equivalent to 60g of fresh cranberries!
Cranberries may help to reduce the occurrence of medically diagnosed cystitis by discouraging harmful bacteria from attaching to the walls of your bladder and urethra – helping future problems to be flushed away!
HOW IT WORKS:
Ural Daily High Strength Cranberry Capsules are formulated to provide a concentrated daily dose of cranberry. Cranberries reduce the ability of bacteria to stick to the urinary tract wall and help to reduce the occurrence of medically diagnosed cystitis. Cranberries help support a healthy urinary tract and their antioxidant properties may also help counteract free radical damage.
EACH CAPSULE CONTAINS:
Concentrated cranberry extract equivalent to 60g of fresh cranberry fruit.
THIS PRODUCT IS:
Gluten free
Yeast free
Lactose free
Dairy free
Starch free
DIRECTIONS FOR USE:
For Adults and children over 12 years and over.
One capsule daily with food or as directed by a healthcare professional.
AVAILABLE IN:
30 and 90 soft gel capsule packs from your local pharmacy.
Always read the label and follow the directions for use.
CRANBERRY TRIVIA:
Did you know the Pilgrims first called the fruit "crane berry" because the stem and flower resembled the head and beak of a crane?
Where can I find the Ural product range?
Enter your postcode below to find the closest store to buy Ural.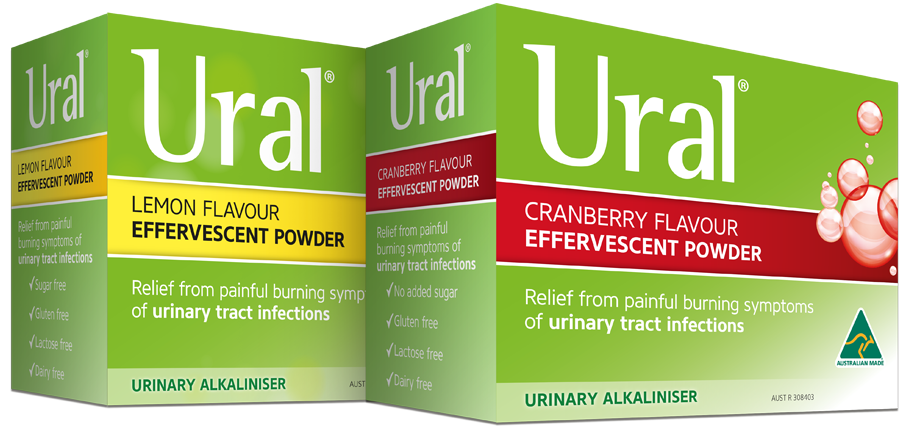 Painful burning UTI symptoms? Ural Effervescent Powder is a urinary alkaliniser, which means it works by reducing the acidity of urine. This lessens the painful, burning sensation so you can get on with life.