Ural Product Range
Cystitis is the most common type of urinary tract infection. Women are more likely to suffer from UTIs – but men can get them too.
So, whether you're suffering right now or want to help reduce your risk of getting cystitis again,
Ural offers a range of UTI solutions: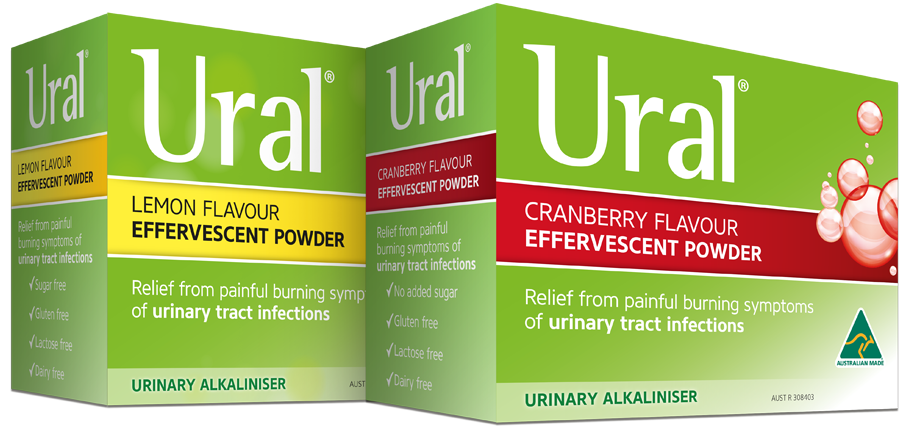 Painful burning UTI symptoms? Ural Effervescent Powder is a urinary alkaliniser that works by raising the pH of urine so it becomes less acidic – relieving the painful, burning symptoms of urinary tract infections.
Helps reduce the acidity of your urine

Provides relief from the painful burning symptoms of UTIs

Can be

taken with

some UTI antibiotic treatments to provide added symptom relief

Extra liquid consumed has a flushing effect on the urinary tract

Choice of two flavours – original lemon and cranberry

Australian Made
Ural Daily Supplement High Strength Cranberry 60,000mg is a concentrated one-a-day cranberry formula to support urinary tract health. It may help to reduce the occurrence of medically diagnosed cystitis and promotes healthy urogential flora.
Cranberries have antioxidant properties which reduce free radicals formed in the body and also assist in reducing urinary odour.
Ural High Strength Cranberry capsules are conveniently small and easy to swallow. Each capsule contains concentrated cranberry extract equivalent to 60g of fresh cranberries.